The historic Shelton Building, that housed Carr's Steakhouse in downtown Mayfield, KY was completely destroyed in the December 10th, 2021 F4 Tornado that decimated our community.
We were blessed to be able to get everyone out prior to the tornado, with members of family and staff escaping just moments before the entire building came down.
Our family reached out and confirmed all of our people were safe that night. Ultimately we had several employees lose their homes that night, and we worked diligently the next day to secure that safe shelter and essentials for the near future. We started a GoFundMe that raised thousands that supported our staff of nearly 30 employees that were suddenly out of work just before Christmas.
We worked with a company called America's Best Restaurants that raised funds and purchased Christmas Gifts for affected restaurant families.
Our family recovered over a dozen rare bourbon bottles from the debris, and we were able to donate them to the Kentucky Bourbon Benefit which all together raised millions to support tornado victims through the state's Team Kentucky Tornado Relief Fund. Those Carr's Steakhouse bottles raised nearly $85,000 for the cause. The benefit organizers were inspired by the Carr's donation, and donated thousands to support our employees directly.
Another way we were able to support our employees during this disaster was to put them in contact and help them apply to restaurant industry relief organizations like CORE (children of restaurant employees), Southern Smoke, and The Giving Kitchen. Those amazing organizations stepped up in a big way and supported our employees in their darkest days.
Roughly two months after the loss of Carr's Steakhouse, we were able to open Carr's Cafe in the WK&T Tech Park, formerly Mid Continent College, just outside of town in Hickory. There we were able to employee a handful of our former staff, most of them being the employees that lost their homes in the tornado. The Cafe offers breakfast & lunch, Monday-Friday from 7AM to 2PM, serving dine-in, carry-out, & delivery. We can also cater from this location.
Like many in the community, we are still looking for the best way forward, how, where, & when to rebuild. We truly miss being a part of the community, and hope to be back in town in the future. We hope you'll dine with us at Carr's Cafe in the mean time.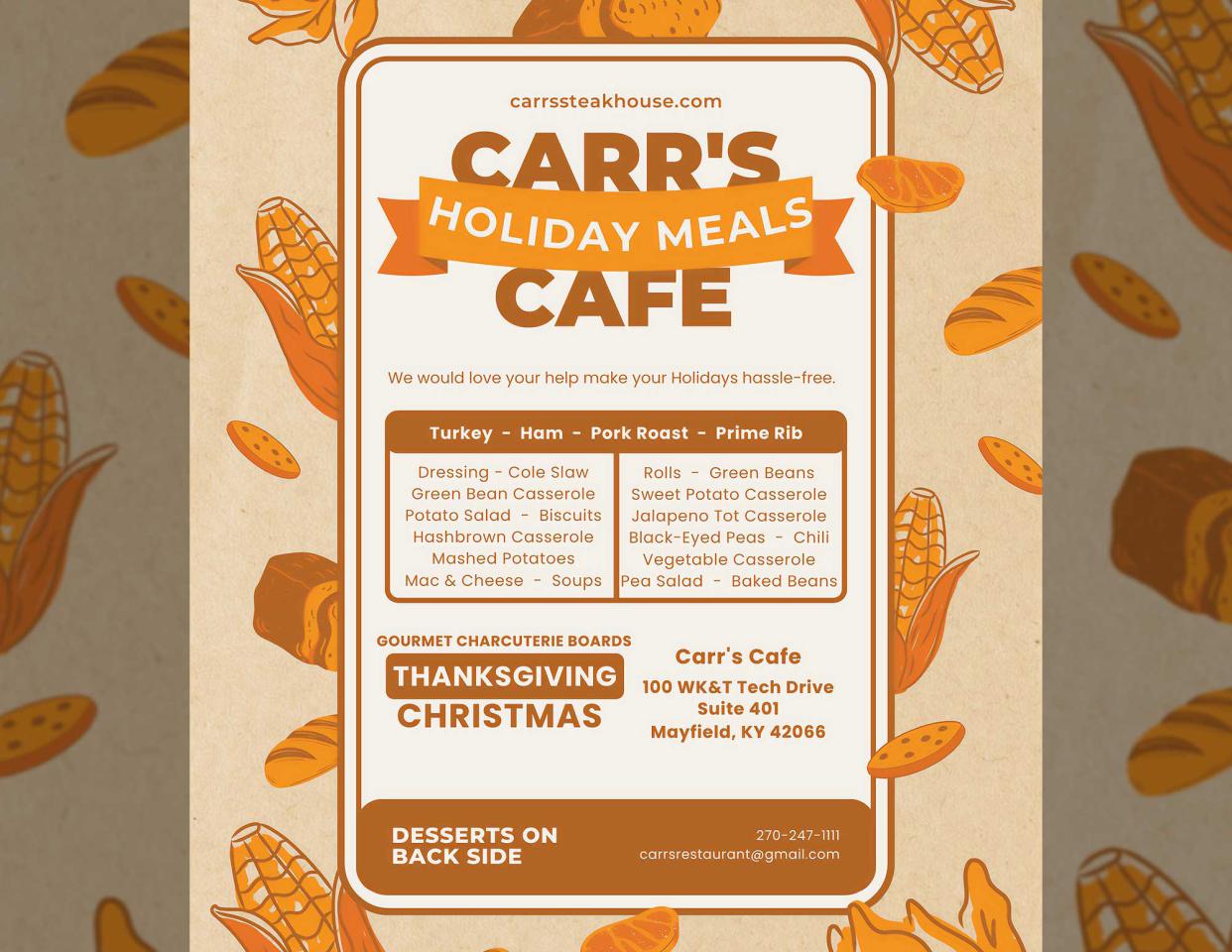 Carr's Steakhouse in Mayfield, Kentucky has been serving great steaks and famous barbecue for over sixty years!
Make a reservation today!
Carr's Steakhouse offers guests exceptional & memorable meals with spectacular service, Southern cuisine, and a distinctive dining experience.
Through the decades and our family's generations, we strive to be more than just another restaurant on the road. Our steakhouse delivers unique events and experiences that you won't find just anywhere - events like our Wine & Craft Beer Tasting Dinners, Bourbon Dinners, live music, band nights, & much more. We pride ourselves on providing a memorable and unique dining experience with each visit!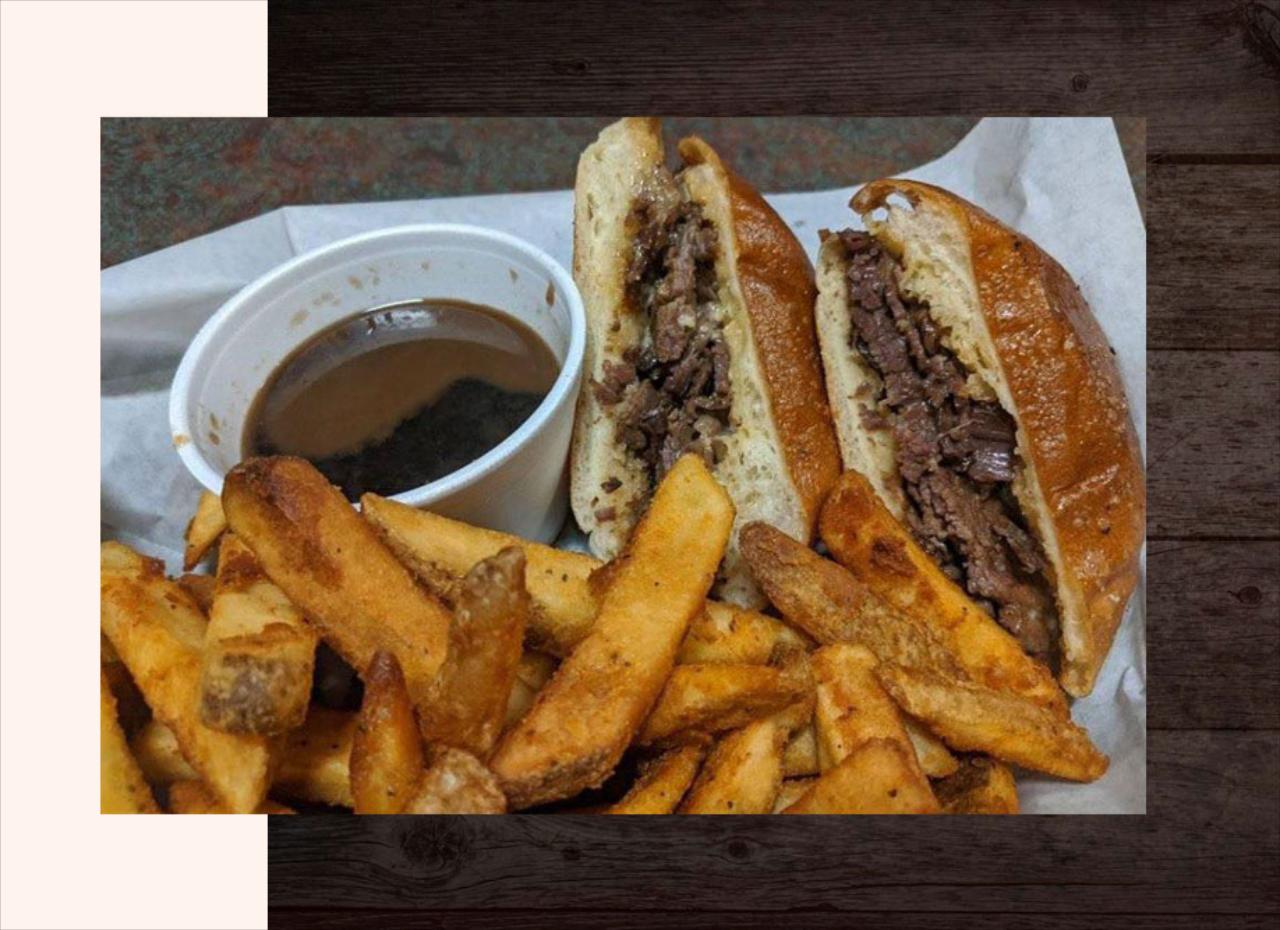 National Restaurant Association's
RESTAURANT NEIGHBOR AWARD WINNER!